The bathroom is the place where most of us kickstart our mornings and wind down at night – so it's important to create a space that not only looks beautiful but also makes you feel good.
When deciding on what colours to use in your bathroom, you should first consider how you want to feel in your space. Do you want to create a sanctuary where you can relax at the end of a long day, or a place that you can emerge from each morning feeling energised and raring to go?
Here, we explore how a splash of colour in your bathroom can completely transform your mood:
Romantic Pinks
According to colour psychology, pink evokes feelings of nurture, love and femininity – perfect for introducing some romance into your space. The colour is both soothing and aesthetically
pleasing, making it a great choice for creating a tranquil and relaxing space.
Pink is also thought to boost creativity.
More connotations:
•  Sensitivity
•  Invigorating
•  Nurture
•  Calm
Greys
If you're looking to make a statement with your bathroom design but find bright colours intimidating to work with, dark shades of grey are a great alternative and exude sleek sophistication.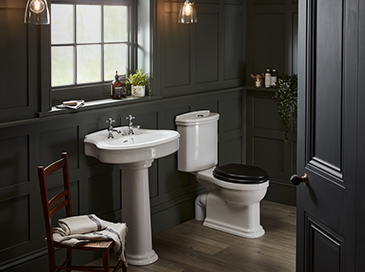 When grey or black is used on an accent wall, consider breaking it up with wall panelling This makes the perfect backdrop for a statement centrepiece.
More connotations:
•  Bold
•  Statement
•  Sleek
•  Chic
Greens
Traditionally a calm and relaxing shade, green is often described by colour consultants as being balanced, harmonious and refreshing.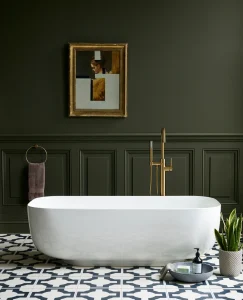 Because of its connotations with the natural world, green is also the perfect colour for bringing the outdoors in – making it great for city homes with very little surrounding greenery.
More connotations:
  •  Organic
•  Vitality
•  Growth
•  Optimism
Yellows
Vibrant yellow is unsurprisingly connected with feelings of joy, optimism, and energy. Emulating the warmth of sunlight, a splash of yellow will evoke positivity in your home all year round.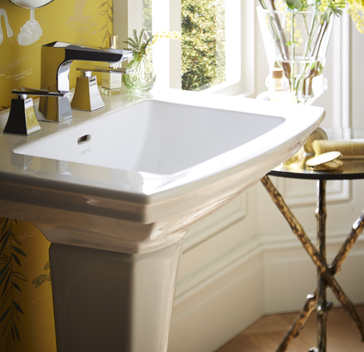 Whether you opt for a darker mustard shade or a splash of sherbet lemon, introducing yellow into your bathroom colour palette will instantly brighten up the space and enhance your mood.
If you're not sure how to incorporate this colour into your bathroom, why not start by introducing some yellow accessories?
More connotations:
•  Warmth
•  Youth
•  Energy
•  Joy
Blues
According to colour psychology, blue instills a feeling of calm and tranquility in the home – which makes it a great choice for spaces where you want to relax.
Similarly, teals and turquoises can add a sense of rejuvenation, helping you to reinvigorated when you step into your bathroom.
More connotations:
•  Compassionate
•  Serene
•  Peaceful
•  Fresh